Zunächst erstmal eine neue Konzertliste.
10.10.2017 Whispering Sons Ostpol Dresden
10.10.2017 Sigur Rós Tempodrom Berlin
12.10.2017 The Jesus And Mary Chain Astra Berlin
14.10.2017 Stereo Total + Andreas Dorau Festsaal Kreuzberg Berlin
18.10.2017 Bergfilm Ostpol Dresden
25.10.2017 Dead Kennedys SO36 Berlin
26.10.2017 Nick Cave & The Bad Seeds O2-Arena Prag
26.10.2017 Gary Numan Columbia Theater Berlin
30.10.2017 Baical Ostpol Dresden
15.11.2017 Marc Almond Admiralspalast Berlin
17.11.2017 Sandow Glad-House Cottbus
21.11.2017 Laibach Reithalle Dresden
29.11.2017 Flut Beatpol Dresden
29.11.2017 OMD Haus Auensee Leipzig
02.12.2017 Nocturnal Emissions Reithalle Dresden
17.12.2017 Clan of Xymox Franzclub Berlin
22.12.2017 Die Art Groove Station Dresden
19.01.2018 Fliehende Stürme Scheune Dresden
27.01.2018 A-HA Arena Leipzig
31.01.2018 Depeche Mode O2-Arena Prag
03.03.2018 Erasure Haus Auensee Leipzig
16.03.2018 Bowie Experience (Leichenfledderei) Alter Schlachthof Dresden
24.03.2018 Deine Lakaien Kulturpalast Dresden
02.04.2018 Editors Haus Auensee Leipzig
Des weiteren 2 Parties im Angebot:
22.09.2017 Jena Rosenkeller Club Bizarre DJs Schloe, PhonikZone, warholy
15.12.2017 Dresden Bärenzwinger Silverfactory-Party mit Liveband und Gast-DJ
Und sonst? Egal ob ihr reiche Bundesbürger oder bunte Reichsbürger seid, demnächst ist mal wieder Wahl. Es verspricht spannend zu werden!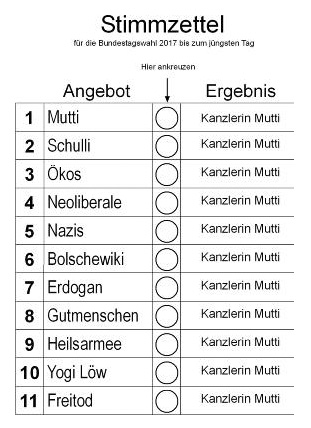 Und sollte doch was schief gehen, hat der Russe die Hand im Spiel!